Cooling moisturiser
Preparation H Clear Gel offers an instant cooling effect on dry, itchy skin around the anal area. It provides 3-way action:
Moisturises skin
Cools anal area
Soothes itching
The gel formula is non-greasy and easy to apply. It has a unique formulation of Witch hazel and other soothing ingredients.
Witch hazel is an astringent that can tighten and harden tissues. It is scientifically proven for its ability to moisturise and hydrate dry, itchy skin. It also has soothing and cooling properties.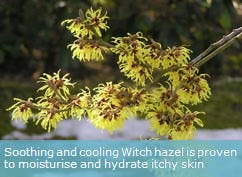 Moisturises, cools and hydrates tired, dull and itchy skin around the anal area
Helps to promote smooth, healthy skin
Recommended usage
Apply freely to anal area after each bowel movement and whenever you feel dryness or itching. If skin irritation occurs whilst using this product, discontinue use. A nozzle is provided for hygienic application. It should be cleaned after every use.
For external use only.
Pregnancy & breastfeeding
Preparation H Clear Gel is suitable for use during pregnancy and breastfeeding.
Available pack sizes
Preparation H Clear Gel is available in 25 g and 50 g packs.